Add to cart
Add to cart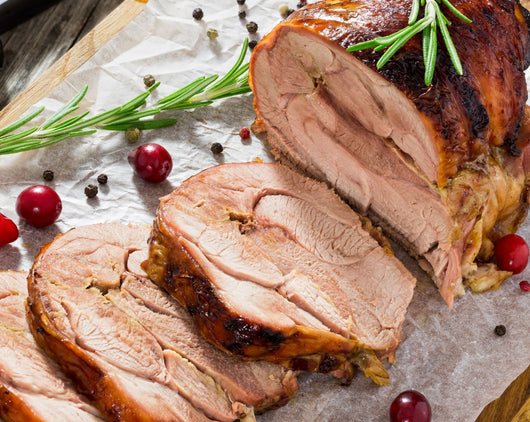 Decadent Three-Bird Roast
Regular price £94.50 Sale
Indulge yourself and your guests in this delightful trio of turkey, duck, and chicken, thoughtfully layered for a hassle-free carving experience, resulting in a succulent centrepiece. Painstakingly prepared by hand and adorned with a layer of streaky bacon.

Package Size

A single 3.0 kg boneless joint is perfect for serving six to eight people, simply add an additional 1/2 kg to accommodate two more portions.
Suggested Cooking Instructions:

Preheat the Oven:
Preheat your oven to 175°C (350°F).
Put the roast in a roasting pan, preferably on a rack to allow for even cooking.
Roasting Time:
Cooking times vary, but a general rule of thumb is about 20 minutes per 0.45 kilograms (450g). The internal temperature should reach at least 74°C (165°F) for poultry. Use a meat thermometer to check the temperature.
Basting (Optional):
Basting with pan juices or melted butter can add extra flavour and moisture. Baste the roast every 30 minutes if desired.
Resting:
Once the roast reaches the desired temperature, remove it from the oven and let it rest for about 15-20 minutes before carving. This allows the juices to redistribute, keeping the meat moist.
Carving:
Carefully remove the twine and carve the roast into slices. Serve with your favourite side dishes.
Serve your three-bird roast slices on a platter, and enjoy your delicious creation!
Remember, these are general guidelines, and cooking times can vary. Always use a meat thermometer to ensure your roast is cooked to a safe temperature. Adjust the seasoning and herbs to your liking, and feel free to get creative with the flavors!