Add to cart
Add to cart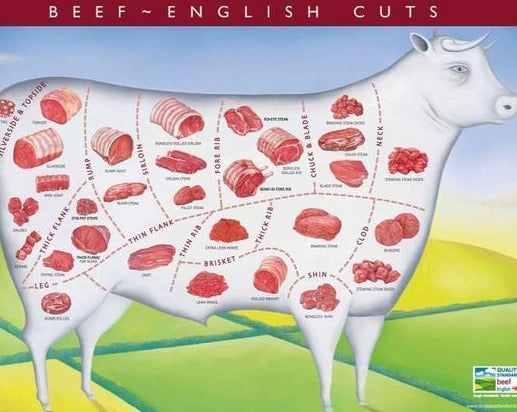 Buy A Body of Beef
Regular price £350.00 Sale
It all begins with our commitment to 100% grass-fed beef, which we proudly source from small family farms that raise their animals without the use of added hormones or antibiotics. You can enjoy significant savings by purchasing an entire cow in bulk!

When you opt for a Grass-Fed Cow, it can be divided into 10 packages, each containing the following:

- 1.5kg of bone-in rib of beef
- 2 x 1.5kg Topside/Silverside joint
- 1 x 1.5kg Brisket joint
- 5 x 500g packs of diced steak
- 5 x 500g packs of minced steak
- 4 x 6oz fillet steaks
- 4 x 8oz rump steaks
- 6 x 8oz sirloin steaks
- 2 x 8oz rib-eye steaks
- 4 x 8oz braising steaks
- 2 x 500g portions of shin beef
- Approximately 1kg of Offal/Odd Bits (content varies in each package)

The total cost amounts to £3000 per cow (or £300 per package).

You have the flexibility to have these 10 packages shipped to either a single address or up to 10 different addresses.

Alternatively, you can opt for purchasing half a cow for £1500 (equivalent to 5 packages at £300 each),

OR you can choose to acquire 1/10th of a cow, which includes the above contents, for £350.